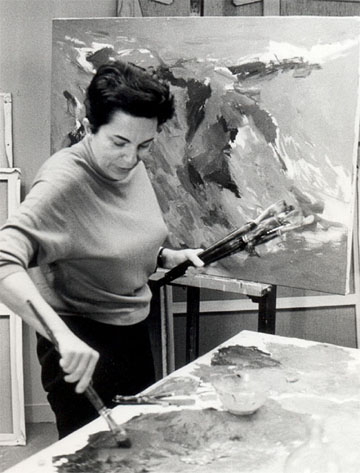 Although she lived and produced most of her vast work in Paris, the artist Noêmia Guerra never distanced herself from Brazil, where she was launched as an artist while still very young. Brazil remained a source of inspiration throughout her artistic journey.
During the 46 years she lived abroad, she visited Rio de Janeiro, where she was born, several times, besides Salvador, Recife, Maceió, Belo Horizonte, Ouro Preto and São Paulo, as well as other Brazilian towns.
Noêmia Guerra was also a member of the "Société Française d'Esthétique" and of the International Society of Aesthetic, and took part in the International Congresses of Nottingham, England; Madrid, Spain; Ljubljana, Slovenia; Budapest, Hungary; and Tokyo, Japan.
Philosophy was part of Noêmia Guerra's life; she participated in courses offered at the "College de France" with Professors Merleau Ponti and Jean Hippolyte. She was an active member of the "College International de Philosophie", in Paris, since its creation in 1981.
She was interested in social issues and took part, during the last 15 years of her stay in Paris, in the "Forums" in the town of Le Mans, France, organized by the newspaper "Le Monde". Starting in the year 2000, Noêmia Guerra also dedicated herself to the study of oriental calligraphy, both Chinese and Japanese. She moved from Paris to Rio de Janeiro in 2004, where she lived the last three years of her life, and where she died in 2007.